AvonMom's Holiday Break Survival Guide for Work at Home Moms
When school ends today, my boys will officially be out of school for 12 straight days. As a mom, I am looking forward to having fun, spending quality time and most importantly not having to wake up when it's still dark out. As a work at home mom, though, I am having to come up with a game plan on how I'm going to get work done inbetween the sibling arguments, complaints of boredom and the constant unnecessary interruptions. Below are some tips & tricks I've learned from previous years and what I have found through my research for this blog.
Continue Your Normal School Routine
It is known that kids do better when they have a routine. I know my boys are no different. They behave better and are less likely to get irritable, especially when it comes to the younger kids. Obviously you won't be able to keep the exact same schedule, especially with Christmas & New Years in the middle of the holiday break. I recommend though keeping your normal meal times & bed times as many days as possible. This will not only help keep the mood in the house more pleasant, but it also will give you time at the end of the day to finish up any work you may not have been able to complete earlier that day.
Make a Deal…
One of the many benefits you get to enjoy being a work at home mom is being able to take advantage of times like these to spend quality time with your kids. I am not saying here that you need to go out & spend all kinds of money. Hello, Christmas is in the middle of the vacation… I'm sure the kids got a whole bunch of toys & games to play.
So what you say to your kids is that you will spend x amount of time with them but the deal is once you are done with the activity, they have to give you the same amount of time to work uninterrupted.
Some ideas on what you can do for fun:
Play a board game
Watch a family friendly holiday movie or an episode of one of your kids favorite tv show
Bake cookies or brownies
Indoor snowball fight (or outdoor if you have the snow to do so)
Do a Pinterest craft activity (Christmas Cards, Thank You Cards, DIY Snowglobe, Christmas Tree Ornaments, etc)
This idea is more appropriate for school age and older kids. I know first hand my 3 year old does not understand giving mom uninterrupted work time more than a few minutes, if I'm lucky.
For more ideas on what you can do with your kids, check out Momables' Christmas Break Activities for Kids & Survival Guide for Parents
Give Back
This is a great project that can spread out over a few days. Holiday season is all about giving back to those in need and a great way to make room for the new gifts coming in Christmas day. Give your kids each a box or trash bag. Instruct them to go through their clothes & toys. They can donate the ones they no longer use and throw out anything ruined or broken. With your younger kiddos, you will obviously have to do this activity with them (or behind their back- I really think my toddler is a hoarder).
Then once everyone has their donation boxes or trash bags all set to go, you guys can go together to the local Salvation Army, domestic violence center, soup kitchen, church or whatever community center you may have in your local area. On the drive you can let them know how proud you are of them for giving back and explain how important it is.
Encourage Independent Play
This idea can come especially handy when you have kids complaining of boredom or won't stop bothering you. I have some kids that I don't ever have to worry about entertaining while others, no matter how old they get, seem to need help to find activities to do or need to have someone to do them with. I always have been a parent who encourages independence, including entertaining themselves. I am their mother, not their friend.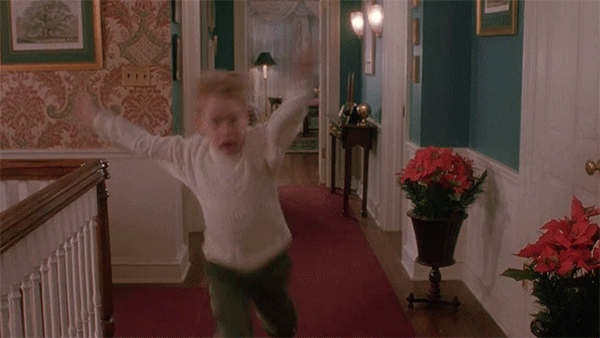 For my older kids, I make a list of ideas that they can do on their own. If they start complaining about being bored I refer them to the list of activities or I will be happy to give them a list of chores. Trust me, they will find something to do. If they don't well then you can give them a list of chores you need to get done. Hey it's a win win, am I right?
For ideas on what your kids can do independently:
Work on any school work that is due when school returns
Read
Play video games/computer games/phone games
Play with their sibling(s) (board game, pretend, etc)
Dress Up
PLAY WITH THEIR NEW TOYS!
Coloring books/ arts & crafts
Reorganize their bedroom (this is for your preteens/teens)
Watch TV/Movie
Go to a friends house or have a friend over
Make a snow fort/snow man
Now for the younger ones, I know for my three year old, I obviously can't refer him to the list of activities or give him a chore list and expect him to do it independently. For me, my son has gotten really good with playing by himself as long as he is in the same room as me. You also have to consider that younger kids have shorter attention spans. Find activities your little one can do to give you your spurts of worktime through out the day. You know your child best and know when he/she just won't do anything without Mom. Then when your little one goes down for their 1-3 hour naptime, take advantage of that time to get your time consuming and need to be quiet tasks.
Take Turns with Another Mom
Set up 2 play dates with another mom & each take turns on doing something with the kids. When I say another mom, I mean any other mom. Let's face it, whether they are a working mom, stay at home or work at home mom… we all could use a break or time to get things done uninterrupted.
I personally love this idea because it literally benefits all involved. It gives the kids new scenery, social time with others outside their family & some fun while giving both moms a chunk of time to do what they want uninterrupted. You can use that time to get work done, get chores/errands done or to relax. Whatever it is… enjoy it while it lasts.
Accept Help
I know first hand how hard it can be to get over own ego and accept help from others. I use to struggle with this big time (if I'm honest, I still do sometimes). But there is nothing wrong in asking for help or accepting help from others. I know I have family members that are always happy to help take care of my boys for a few hours.
Even if you don't have family members locally, don't be afraid to go to your spouse, a friend, a babysitter… Anyone you trust with your kids. It is so true when they say it takes a community to raise a child. Don't be afraid to utilize that community.
Take a Day Off
Working at home gives you the flexibility to create your own schedule. Why not take advantage of this during the holiday break? Take a day off (not including Christmas or New Years). Go out and do a fun activity with your kids or stay home and have a pajama day. My kids love pajama day. It's a day we all stay in our pajamas all day and basically throw the rules out the window.
Here are some ideas can you do with your kids on your day off:
Have a scavenger hunt
Go to the mall to use up those gift cards
Have a Game Day & play a bunch of board games.
Go to the movies
Make a fort
Spend one on one quality time with each child
Go out to eat for breakfast, lunch or dinner
You Can Say No
Up until this past year, I always struggled with saying no to people. I especially struggled with saying no and then feeling like I had to give them a "valid" reason why. Holiday season is a very busy time. Don't be afraid to say no to anything that is going to add more stress to your life or if you just don't want to do it. And remember, you don't have to give a reason. You can just say… "No, thank you."
In Conclusion…
As a work at home mom, we are lucky to have the flexibility to be able to spend this time with our kids. I love that I am able to spend this time with my kids and have a fun, relaxing 12 days with them.
What Are Your Holiday Survival Tips?
Resources
How to Become an Avon Mom
Create an online business you can work anytime, anywhere with the help of your FREE online tools, resources, and training you receive as an Avon representative.
Get started today for $30 + receive a FREE gift when you sign up at www.startavon.com with Reference Code: jantunes.
How Can I Help You?
What You Can Do With Avon:
Shop Avon Online
Shop Avon Brochure
Sell Avon Use Reference Code: jantunes  
Earn Free Avon               
Donate with Avon