Avon Fashion: Holidays 2018
For over 130 years, Avon has worked to bring quality products that will have every woman look and feel beautiful & confident. When you shop Avon now, you will find more than just beauty products! Customers are able to enjoy quality piece in apparel, shoes & accessories so she can "come up with just the right looks that suit both her taste and lifestyle" (Avon Products, 2016).
What's Trending in Fall/Winter 2018/2019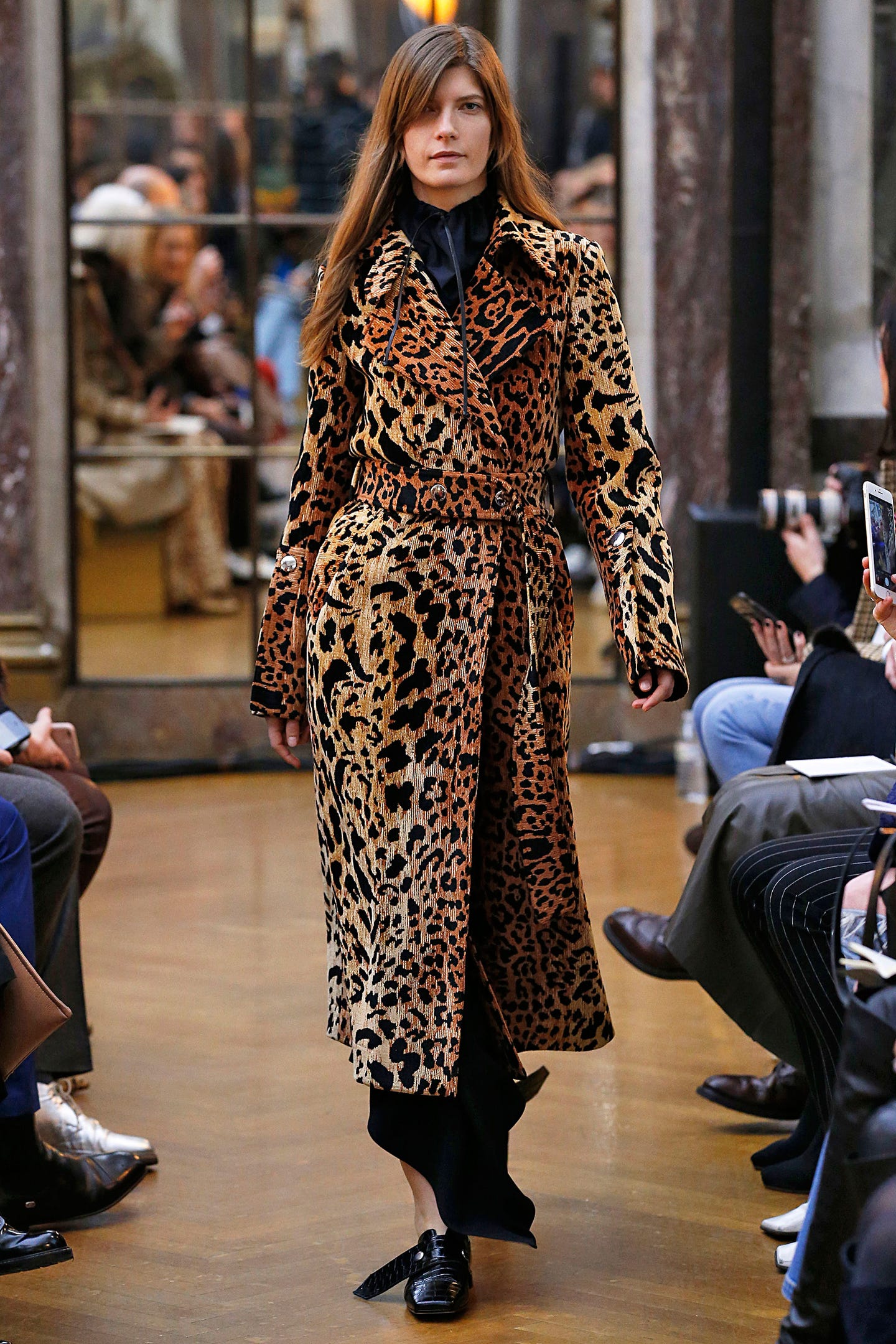 I am very excited about upcoming Fall/Winter fashion trends and apparently I am not the only one. "Some of the key looks for the new season have hit both high-fashion departments and high-street stores way in advance, with the chief of the tribe found within the huge array of animal prints…." (Almassi, 2018) Animal print pieces, especially leopard & zebra, were found all over Fashion Week like this look in image to the right from Victoria Beckham.
What other prints should you look out for? I know for me, when I think of a "Fall/Winter" print, it would be the plaid/checker print. What is new this year is the "unexpected pairings and plaid worn in new ways — like asymmetrically across a dress or from head to toe in varying shades". (Wasilak, 2018) Another popular print that is a continuation of the Spring/Summer, bold floral print. I thought the same as you probably are right now, "Aren't floral prints suppose to be for Spring?" In researching for this, I do have to admit though I am loving it. As Eggertsen (2018) states, "floral prints don't always have to be perceived as 'girly,' as designers such as Miu Miu, Gucci, and even Topshop are churning out this familiar print with a gothic-meets-grunge vibe that we're very excited about." What does this mean? The floral prints you see will be in much darker hues then the floral prints you saw in the Spring/Summer 2018 trend.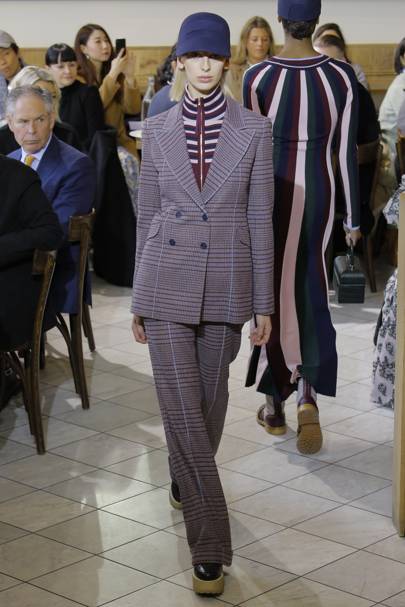 For those of us who live where there are hot summers & freezing winters, the type of materials we wear differ from one season to the other. One who is normally not into this trend, I am loving the way fashion designers used tweed. For me, tweed was always so stiff looking but you can see fashion designers used this fabric to enhance the popular trends of streamline, fitted suits, the oversize coats or long, pleated skirts. How can you work it into your wardrobe? British Vogue Fashion Features Editor, Ellie Pithers (2018) recommends, "pair it with something unexpected: a leather skirt, a feminine dress, a sporty roll-neck."
One trend that seems to not be going away is the 80's inspiration with a modern twist. According to Fritton (2018), "Bold shoulders and black leather are out in full force. Pair your glam power woman silhouette with a skinny jean to take the idea decidedly modern." I personally am not one for the bold shoulders, but I do love the black leather. Black leather, for me, has always been a versatile material that can change the style of a look based on what piece it is and/or paired with. We seen that during Fall/Winter 2018 Fashion Week with leather being used in a variety of runways in a variety of ways such as skirts, pants, coats & more. For a modern twist, "it doesn't have to be in black either – Givenchy served up coats in petrol green and Loewe did dresses in butterscotch-coloured leather. (Alexander, 2018)
These are just a few of the hottest trends that came off the runway for Fall/Winter 2018/2019 Fashion Week. As you can see, there is a variety of trends this year, however, unlike most seasons, this season's trends are more applicable to us everyday women. No matter where you shop, whether it's a local small town store or a high end big city store, you will find trendy pieces you can easily add to what you have in your closet already.
For more tips & trends for Fall/Winter 2018/2019 Fashion…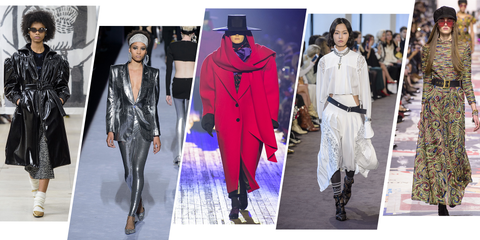 Harper's Bazaar 8 Major Fall 2018 Trends That You Should Know by Nicole Fritton (July 18, 2018)
Harper's Bazaar 10 Autumn/Winter 2018 Trends to Start Wearing Now by Ella Alexander (July 30, 2018)
PopSugar Get to Know Fall's 8 Most Wearable Trends by Sarah Wasilak (August 31, 2018)
Vogue UK AW18 Trend: Boss Girl Tweed by Ellie Pithers (February 15, 2018)
Who What Wear Autumn/Winter 2018 Fashion Trends: The Only Looks You Need to Know by Hannah Almassi (September 3, 2018)
Who What Wear How to Wear Florals This Fall by Lauren Eggertsen (August 7, 2018)
For Fall/Winter makeup tips check out Avon True Color Make-Up Guide: Fall/Winter 2018 .
Tis the season to party, party party with skirts that twirls & tees that twinkle. Celebrate the holidays with styles that have you feeling festive from head to toe with Avon's *NEW* Holi-Dates Collection.
From classic casuals to party dresses, the women's Avon apparel collection has the ensemble you are looking for.
Agnes Mock-Neck Top ($19.99): Jingle bell rock in this mockneck top during the holiday season. Available in Black & Red.
Be Merry Sweater ($34.99): Take your holiday sweater collection to the next level with knit pullover, long sleeved sweater with "Be Merry" embellishment and round ribbed neckline, waist & wrists.
Believe Holiday Sweater ($34.99): Add to your holiday sweater collection with this knit pullover "Believe embroidered logo red sweater with round ribbed neckline, waist & wrists.
Brooke Fair Isle Sweater ($39.99): This season go fa la la la in Fair Isle fashion with this knit pullover sweater in Fair Isle design & rhinestone accents at front.
Claire Quilted Vest ($39.99): A pop of plaid lets you 'wow' in winter weather like with this plaid quilted vest with center front zipper and side slit pockets at the hips.
Elena Sweater Dress ($39.99): Show up at the gift exchange showered in rhinestones with this pullover knit, mock neck sweater dress accented with rhinestone cluster designs at front.
Hazel Tulle Skirt ($34.99): Swing right into the season with the tulle mesh skirt with solid lining & elastic waistband. Designed to hit at the knee.
Holiday Tee ($24.99): Light up any occasion with a seasonal long sleeve tee with holiday print design. Available in Dancing Tree, Joyful Holiday and Holiday Bling. 
Josephine Ponte Dress ($44.99): Mingle all the way in the A-line red dress with darling bow details on 3/4 length sleeves.
Louise Velvet Tunic ($29.99): Elegant velvet is in for an end-of-year bash like this pullover tunic with studded collar detail & side seam slits.
Nicole Pant ($39.99): Your favorite pair pants are now available just in time for the holidays! Look stylish & be comfortable with these straight leg, ankle length pants with stretch fabric & inner elastic waistband for a comfy fit. Available in Red and Black.
Scarlet Velvet Dress ($29.99): Elegant velvet creates a sumptuous silhouette this season in this pullover, green A-line style dress with 3/4 length sleeves & shirring detail at waist.
Tabitha Peacoat ($69.99): Button up and go with the peacoat that's perfect for getting you to the holiday party. Double breasted, single notched collar coat with button closures & slit pockets at hip.
Velvet Pull On Pant ($29.99): Celebrate end of the year in style with these velvet, loose pants with elastic waistband& side slash pockets at hip.
Find your sole mate in a pair of shoes that completes your look.
Cushion Walk Angela Faux Suede Bootie ($54.99): Kick off party season in the sleek black booties.
Cushion Walk Bejeweled Party Flats ($44.99): Lush flats with a gemstone topper & sparkle to your strides.
Cushion Walk Glittery Party Pumps ($34.99): Pump up the jams and grab these party-ready pumps.
Cushion Walk Tartan Plaid Sneakers ($24.99): Make your look pop with the plaid accented flexible sneaker.
Cushion Walk Warm Plaid Boot ($50.99):  Add a pop of plaid in your duck style boots lets you "wow" this winter with every step.
Determining Your Size with Avon Fashion
Unsure what size to get with Avon fashion? As of Campaign 19'2017, Avon has simplified their size chart to make it easier for you to shop.
For printable version of the above Fit Chart, click here.

You can shop Avon Holi-Dates Collection until December 10, 2018 at www.youravon.com/jantunes.
Check out Avon 2018 Holiday Gift Guide for the perfect gift for those on your holiday shopping list with cute, comfy pajamas, winterware & more.
For the latest FREE shipping & coupon codes that will help you save on your next order, check out Avon Online Coupon Codes. 
For over 100 years, customer satisfaction has been a #1 priority at Avon & stand behind every product sold. Avon will gladly give you a full refund with your return within 90 days.
For questions or more information about Avon's Return Policy go to www.youravon.com/jantunes.

Love fashion? You can help others look & feel their best with Avon Fashion as an Avon Representative. Create a business you will love & have fun with that you can work into your daily life. Enjoy a FREE online store, FREE online training & support from Avon and your mentor and more.
Choose from 3 Avon starter kits starting at $25 when you join Avon at www.startavon.com Reference Code: jantunes.
Enjoy full size products, business tools & more that will get you started on the road to success. You can learn more about Avon starter kits & how to start a successful Avon business with your chosen kit at Avon Selling Tips: 2018 Starter Kit Tips for New Representatives.
To learn more about starting your own Avon business, check out Sell Avon: How to Start & Avon Selling Tips: 2018 Starter Kit Tips for New Representatives.
How Can I Help You?
What You Can Do With Avon:
Shop Avon Online
Shop Avon Brochure
Sell Avon Use Reference Code: jantunes  
Earn Free Avon               
Donate with Avon