Summer Family Fun on a Budget
Being a mom of a big family & living on 1 full time check, I have had to find creative ways to entertain our kiddos during their 8 week summer break. Each year, I was able to find things to do that didn't cost an arm & a leg as well as entertain many different personalities. Below is how I ensure my 6 kids have a good summer without breaking the bank.
Plan Ahead
As much as my family teases me about being so organized & prepared, I know deep down they love that I am because of times like this. Every June, I dedicate one evening to researching & planning out the kids summer break. Why? Here are why I have found planning ahead works:
Provides everyone a place to see what is coming up so he/she can plan their individual plans accordingly.
For my younger kids, they love to do countdowns to their favorite activities.
Gives me a sense of control by knowing what we are doing each day.
Allows for wiggle room to reschedule activities when needed, such as if it rains or something comes up.
Has you prepare for certain activities that will require supplies, ability to compare prices & whatever else you may need to get ready for activities like a vacation away or having a fun party.
Planning a summer break doesn't have to be this elaborate thing where you are planning out every minute of the day. My family all ready works on a pretty steady routine. During the summer months, we just use our normal "weekend" routine everyday. So, how I plan out our summer break is by printing out two blank monthly calendars so I can get a good overview. Each week I will make sure we are doing something at least 2-3 times a week and at least 1 full weekend we will go camping. You can find activities to do in your area online, such as doing a google search or checking out the Facebook Events page. Another great source for things to do is your local library.
DO YOU LIVE IN MASSACHUSETTS? 
Did you know that every Friday during summer break you can enjoy FREE admission with museums, gardens & other cultural & historical locations. For this year's calendar, go to Highland Street Foundation's website at www.highlandstreet.org.
Summer Activities
What I love about summertime is that there is so much you can do. If you live in an area where your winters are harsh (snowstorms, below freezing temps, ice, etc) you know exactly what I mean when I say "Cabin Fever + Kids= Mom Pulling Hair Out." Below I've created two lists of activities you can do this summer with your kids at home as well as things you can do in your local area.
At Home Summer Fun
Here is a list of activities you can do this summer with your kids at home:
Arts & Crafts
Backyard Camping (this is a great way to test out camping if you are new or if you have a little one like we did last year when our baby was just under a year)
Baseball (Growing up this is was what we did almost every night in our backyard)
Bird Watch
Backyard Cookout
Build a Fort or Treehouse
Campfire (We have a Chimnea in our backyard that we use)
Catch Lightning Bugs
Climb Trees
Create a Garden
Dance in the Rain
DIY Bird Feeder
Have a Tag Sale/Garage Sale (You can use the money for a special treat & get rid of some clutter… it's a win win)
Hide & Seek (it's even more fun at night using glowsticks & flashlights)
Ice Cream Sundaes
Join a Summer Reading Group (Our local library does a summer reading event for the kids)
Jump Rope/ Hop Scotch Competition
Kickball
Lemonade Stand
Make a 3-D Scrapbook of Your Summer
Make a Collage of Items You Collect Throughout the Summer (My family fills mason jars, one with rocks & one with seashells)
Make Homemade Ice Cream and/or Freeze Pops
Obstacle Course in Your Backyard
Run Through the Sprinkler
Scavenger Hunt
Science Experiments
S'mores
Sparklers & Firecrackers (I know in my state it is illegal to do fireworks, but if you have the space & it is legal, this is a fun activity to do at night)
Stargaze
Tie Dye T-Shirts
Watch Movie in Backyard on Projector
Water Balloon/ Water Gun Fight
Water Slides
Summer Fun in Your Local Area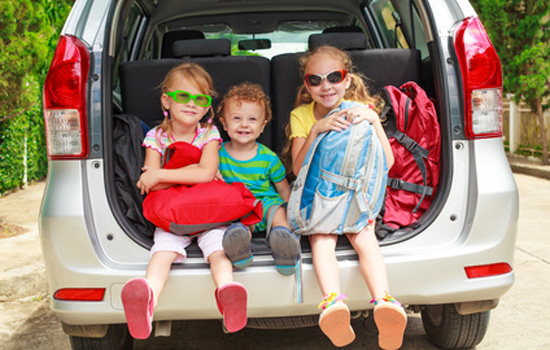 Here is a list of things you can do as a fun day trip:
Air Show
Amusement Park
Baseball Game
Beach
Berry Picking (whatever grows in your local area)
Bike Ride
Demolition Derby or MotorBike Race
Drive In
Fishing
Flea Market and/or Tag Sales (Our local area loves to do Tag Sales)
Fourth of July Fireworks
Go Karts
Kayaking/Canoeing
Kid's Workshop (check your local Lowe's or Home Depot)
Local Fair or Carnival (summertime is popular for these everywhere)
Local Farmer's Market
Local Park (You can do a picnic or check to see if your local parks have any planned activities you can enjoy)
Mini Golf
Movies
Museums/Historical Sites
Nature Walk/Hike
Outdoor Concert
Swimming (if you don't have a pool check out local swimming spots like a local lake, pond or river)
Waterpark
Water Tubing/Skiing
Zoo/Aquarium
Family Vacation Ideas on a Budget
Having a family of 8, going away on a vacation can get pretty expensive, even if we go away for a weekend. So I completely understand the frustration and if you are like me, the guilt, you feel as you struggle to find at least 1 way you can go away for a few days with your family.
Camping
A few years ago I decided to take my electronic frenzy family away for the weekend to go camping. It was an inexpensive way for us to get away for the weekend & to bond as a family. As I was planning it, I will admit I was worried that our kids were going to freak out without their electronics. Surprisingly though, our kids didn't even miss them. We had an amazing time & made some incredible memories. Since then, we have made it a must for our summer plans.
For my tips on camping out with your family, check out Tips on Camping with Kids
Beach
Depending on where you are located, the beach is one of the more affordable vacations out there. What makes this vacation so much more affordable is the fact that you don't have to worry about spending money on activities to do every day. The beach is FREE. If you plan far enough in advance you can even get a really good deal on renting either hotel room or a house.
Big City Getaway
If you are from a small town or are looking for a place to go with a variety of things to do, visit your nearest big city. What is great about big cities is that you will find a wide range of activities, historical landmarks, variety of food choices & more. To save on lodging, rent a room in the suburb. Many big cities will have trains or subways that go to & from the big city & their suburbs making it easier for you to travel.
Visit Family
Do you have a relative that lives out of your area? You can't go wrong in visiting family & having a personal tour guide that will show you all the hottest spots in their local area. They also will be able to help you find the cheapest places to stay, which I'm sure is only if they don't have the space in their own home for you to stay for FREE.
Share your tips & ideas on how you keep your kids entertained during summer break in comments below.
Resources & Additional Links to Check Out
How to Become an Avon Mom
Create an online business you can work anytime, anywhere with the help of your FREE online tools, resources, and training you receive as an Avon representative.
Get started today for $30 + receive a FREE gift when you sign up at www.startavon.com with Reference Code: jantunes.
How Can I Help You?
What You Can Do With Avon:
Shop Avon Online
Shop Avon Brochure
Sell Avon Use Reference Code: jantunes  
Earn Free Avon               
Donate with Avon