In 1919, Avon began selling one of their most popular products today- LIPSTICK. Avon lipstick has come a long way in it's almost 100 year history starting with only 2 shades available in light & dark (Avon Insider, 2018). Now you will find over 100 shades between the 7 different lipsticks that are available, not including other lip coloring products like lip glosses or lipstick from mark. by Avon:
To learn about the history of Avon Lipstick, check out #TBT: The Hundred Year Evolution of Lipstick at Avon.
CLICK HERE FOR THE CURRENT AVON BROCHURE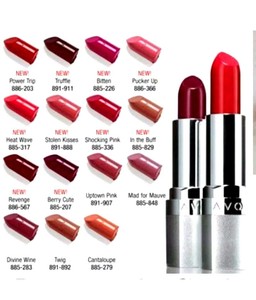 Avon introduced Beyond Color Lipstick as a *NEW* "lipstick with retinol to treat lips" (Klepacki, 2010). The Beyond Color Lipstick will give you moisturized, plumper lips with help of its Retinex Color Complex formula. The Retinex Color Complex is a dual plumping formula that leaves lips looking plumper & fuller. Notice your lips moisture boost by 115% after 4 hours & 62% after 8 hours. There are 15 shades to choose from in a satin finish.
Best For:
Anyone looking to hydrate their lips & have plumper looking lips.
Benefits:
Super moisturizing
SPF 15
Gives light to full coverage
Formulated with jojoba oil, pomegranate extract, caffeine & Retinol.
In 2 weeks, you will notice lip dryness reduced by 90% & lips plumper by 35%.
Ingredients
Active Ingredients:
Inactive Ingredients:
Barium Sulfate, Diisostearyl Fumarate, Squalane, Polybutene, Ozokerite, Microcrystalline Wax/Cire Microcristalline, DI-C12-15 Alkyl Fumarate, Polyethylene, Zea Mays (Corn) Starc, Beeswax/Cire d'abeille, Tocopheryl Acetate, Caprylyl Glycol, Cholesteryl/Behenyl/Octyldodecyl Lauroyl Glutamate Glycerin, Hydrogenated Castor Oil, Behenyl Erucate, Silica, Lauroly Lysine, Allantoin, Aloe Barabadensis Leaf Extract, Allyl Methacrylates Crosspolymer, Lecithin, Parfum/Fragrance, Phenyl Trimethicone, Glycine Soja (Soybean) Oil, Retinol, PEG-80 Sorbitan Laurate, Acrylates/Carbamate Copolymer, C12-15 Alkyl Benzoate, Caffeine, Cetyl Alcohol, Collagen, Simmondsia Chinensis (Jojoba) Seed Oil, Ethylhexyl Palmitate, Hyaluronic Acid, Water/EAU, Biotin/Folic Acid/Cyanocobalamin/Niacinamide/Pantothenic Acid/Pyridoxine/Riboflavin/Thiamine/Yeast Polypeptides, Tribehenin, Retinyl Palmitate, Sorbitan Isostearate, Punica Granatum Fruit Extract, Ascorbyl Palmitate, Beta-Carotene, Palmitoyl Oligopeptide
For complete ingredients list & color shade ingredients used, click here.
How to Purchase
You can purchase Beyond Color Lipstick through your local Avon representative or online at www.youravon.com at the regular price of $8.
Also check out Beyond Color Lip Conditioner, a sheer color lip conditioner that will immediately condition & moisturize dry, chapped lips, at the regular price of $8 through your local Avon representative or online at www.youravon.com.
Like with all Avon products, there is a 30 day 100% Money Back Guarantee with Beyond Color Lipstick & Lip Conditioner.
CLICK HERE FOR THE CURRENT AVON BROCHURE
Alternatives:
One alternative lipstick from Avon is the Avon True Color Lipstick. It's formula is infused with Vitamin E, Omega 3-Oil & Shea Butter to treat & moisturize your lips. What I especially love is the variety you can choose from with 40 shades available in 2 finishes, satin & shimmer. In 2017, Avon updated the True Color product line with the Avon True Color Promise of fuss free, fail free makeup that lasts all day long.
Another popular Avon nourishing lipstick is the mark by Avon All Butter Now Lip Treat. You can apply a sheer color or build it up for a full coverage look. Get increased lip moisture immediately by 124% with its shea, cocoa & mango seed butters. Available in 8 shades that will give your lips a yummy, buttery shine.
According to InStyle (2018) article by Erin Lukas, here are the top 8 lipsticks that will keep your lips hydrated all winter long:
For the full article, check out InStyle's 8 Non Drying Lipsticks to Grab, ASAP.
CLICK HERE FOR THE CURRENT AVON BROCHURE
My Pros
Glides on smoothly
Instantly felt my lips being moisturized
Lips felt soft & plump all day long
Available in a variety of different shades (browns, reds, purples, etc)
My Cons
More of a sheer color- when applied it looks lighter then the product
Variety of shades have been discontinued with no Beyond Color Lipstick color to replace it.
Reviews
One of the many benefits of shopping Avon online is that you are able to check out what other customers have to say about a product. Here are what some customers said about Beyond Color Lipstick.
Pat from Albuquerque, NM: 5/5 Stars
"This is a great lipstick. Should have bought it a long time ago. I purchased two colors. Love the color, love the feel, love that it lasts pretty much all day. I work long days and I can still feel it at night when I take my makeup off. Love it. It was delivered by mail on the hottest day of the year. Thought they would be melted. But to my surprise they were perfect! Wow what a product. I've been using Avon products over 40 years. LOVE IT!"
Steph R. from New Jersey: 5/5 Stars
"I love this lipstick. I was looking for a moisturing lipstick and previously purchased a very expensive brand but was very disappointed. I remember getting lip conditioner a while back and I thought I would try one and I loved it."
MrsDoc from Merritt Island, FL: 3/5 Stars
"I've tried many colors, but the Beige Illusion was the best for coverage and conditioning, for some reason. The pigmentation was better than the others and my lips felt so soft. Since the change in the container and the elimination of that color, something is different and not for the better. It doesn't condition like it used to and the pigmentation isn't has even. I bought so many of these thinking that they compared with the Beige Illusion…sadly, they don't."
Agape from Toccoa, GA: 5/5 Stars
"I have enjoyed wearing it this lipstick very. I wish it would stay on a little longer because I get busy and forget to reapply."
TraceySlay from Detroit, MI: 1/5 Stars
"I LOVED THIS PRODUCT UNTIL THEY GOT RID OF MY COLOR! IVE BEEN USING IT FOR 13 years!!! I cant find anything even close to it… I still wear twig for daytime.. BUT SIENNA NEEDS TO COME BACK!!! BEST COLOR EVER!!!"
According to the Beyond Color Lipstick product page on www.avon.com, 92% of customers who reviewed the product would recommend this product to their friend & the average rating is 4.5 out of 5 stars.
My Final Thought:
When I first used this product, I was absolutely amazed how long my lips felt moisturized. Being a busy mom of 6 kids & working at home, I normally have to reapply my lipstick half way through the day. I don't when I use Beyond Color Lipstick. I am not one to wear a bold or bright shade of lipstick on a daily basis. Currently I only have 1 shade, Mad for Mauve. This is my go to daily color since it goes perfectly with my natural makeup look that wear most of the time.
The only thing that has prevented me from purchasing more is the fact that it is more of a sheer lipstick & the shades that are currently available other then the one I all ready have, don't really "speak to me" sort of thing. According to Beyond Color Lipstick product page on www.avon.com, here are a list of shades that are no longer available with a recommended replacement:
Avon True Color Lipstick is one of my alternative picks & as you can see, it seems like they have transferred some of Beyond Color's shades over to an Avon True Color Lipstick shade.
I did notice the feeling of my lips feeling plumper, but personally I didn't notice a physical change. I do have to admit though that I do like the way my lips look when I do have my Beyond Color Lipstick. I don't know if its the plumping effect, the fact that they are moisturized or the combination of the two, but I really LOVE the way my lips look.
I would highly recommend this product to those who are looking to apply a sheer lipstick that will keep their lips moisturized all day long.
CLICK HERE FOR THE CURRENT AVON BROCHURE
References:
Avon: Building the World's Premier Company for Women by Laura Klepacki (2010)
#TBT: The Hundred Year Evolution of Lipstick by Avon Insider Blog (2018)
8 Non Drying Lipsticks to Grab, ASAP by Erin Lukas in InStyle (2018)
LOOKING FOR AN AVON LADY?
When you shop Avon with Jen Antunes, you will be able to enjoy a variety of benefits & services that will help you save money and get the most out of your Avon experience. As a customer have the opportunity to:
Receive biweekly e-newsletter with current brochure sales & new products as well as all the ways you can save money.
Automatically be entered for a chance to win FREE Avon products, discounts & more with every $25 of Avon products ordered.
FREE Avon gift with your $75+ order
Opportunity to save up to 50% on a variety of Avon products as a member of customer exclusive Facebook group, Avon with Jen Antunes Bargains.
Host an Avon Facebook Party for a fun night of games, raffles, prizes & an opportunity to earn a discount on your party order.
Help raise funds for a local cause or organization with an Avon Fundraiser
and many more!
If you like to learn more about shopping Avon with Jen Antunes you can check out her Facebook business page Avon with Jen Antunes or email her at avonantunes@gmail.com
To register as a customer, go to www.youravon.com/jantunes & create a customer profile by clicking on "Sign In" found on top right corner of the home screen or by clicking here.
CLICK HERE FOR THE CURRENT AVON BROCHURE
How Can I Help You?
What You Can Do With Avon:

Shop Avon Online
Shop Avon Brochure
Sell Avon Use Reference Code: jantunes  
Earn Free Avon               
Donate with Avon