Avon Spring/Summer 2019 Fashion Guide: Aloha, Summer! Collection
For over 130 years, Avon has worked to bring quality products that will have every woman look and feel beautiful & confident. When you shop Avon now, you will find more than just beauty products! Customers are able to enjoy quality pieces in apparel, shoes & accessories so she can "come up with just the right looks that suit both her taste and lifestyle" (Avon Products, 2016).
What's Trending in Spring/Summer 2019
Though we are still in the beginning of winter, I can't wait for spring & summer warm weather & fashion. What I love about the 2019 Spring/Summer fashion, whether you are someone who loves to dress up every day or someone who looks for comfort & purpose, there is a trend for everyone.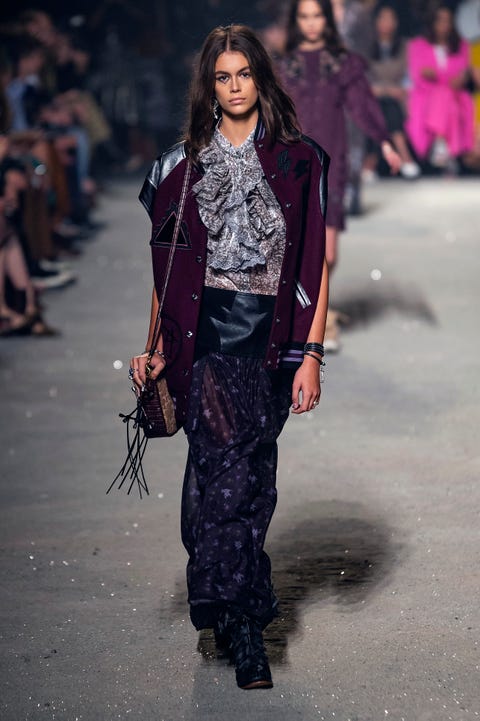 Love to add a little drama to your look? You'll love the embellished straps, fringe & frills and exaggerated ruffles that were found throughout fashion week on a variety of runways. As Matera (2019) states, "Dramatic details are coming back with fervor as we have begun to see more and more oversized ruffles, especially on the red carpet. Celebrities like Kiki Layne have been opting for this exaggerated detail that seems more artistic than anything else — and we can't get enough."
Prefer a more laid back, sporty look? You'll find a variety of ways to style the biker shorts. "From Chanel to Prada and Fendi, all the big houses are on board." (Anderson, 2019) We can't talk about Spring/Summer fashion without thinking of the beach. What better way to add a bit of beach to your look then taking up one of the two hottest fastest trends found on the fashion way… Fishnets and/or baja "California Girl" style.
Love to add function to your wardrobe? If you are a busy, constantly on the go type of girl like myself, our prayers have been answered! "Function meets fashion in the form of the utility chic trend. Expect to see an abundance of khaki, patch pockets, cotton drill and cargo pants." according to Global Buying Director at Net-a-Porter, Elizabeth von der Goltz. (Ogunnaike, 2018)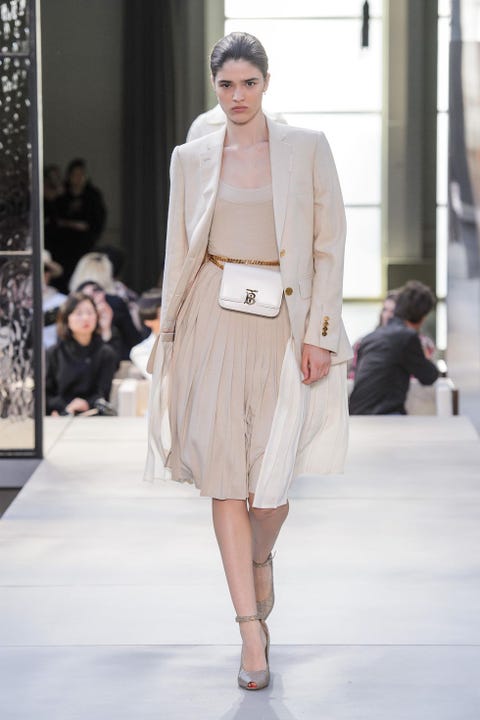 So what colors & prints should we keep an eye out for this Spring/Summer? To continue on the functionable design fashion, earth tones are back! You'll find all shades of brown making it a great stable that will go with basically everything in your wardrobe. Also, to continue on from the Fall/Winter animal print trend, you can enjoy continue on with that trend into the Spring & Summer. "Spring runway shows brought back the forever neutral by way of snake, leopard, and more in deep caramel and brown tones." (Matera, 2019) Though floral prints are usually the go-to print for spring & summer, for those looking for a more neutral print, the black & white polka dot trend will be your best choice.
You can't go into Spring & Summer though with out any color. Don't worry… You saw plenty of color on the Spring/Summer 2019 Fashion Week runways. One way is to look at the colors of spring/summer colors such as magenta, lavender, pale blue, all shades of yellow and bright orange. Another way to add color to your look is through print. Though 2018 seemed to be more of bringing the 1980's back, this spring/summer, you'll find 70's inspired print throughout. Let's all get ready to have fun in tie-dye sweaters, tees & skirts. (Anderson, 2019)
More Tips & Trends for Spring/Summer 2019 Fashion…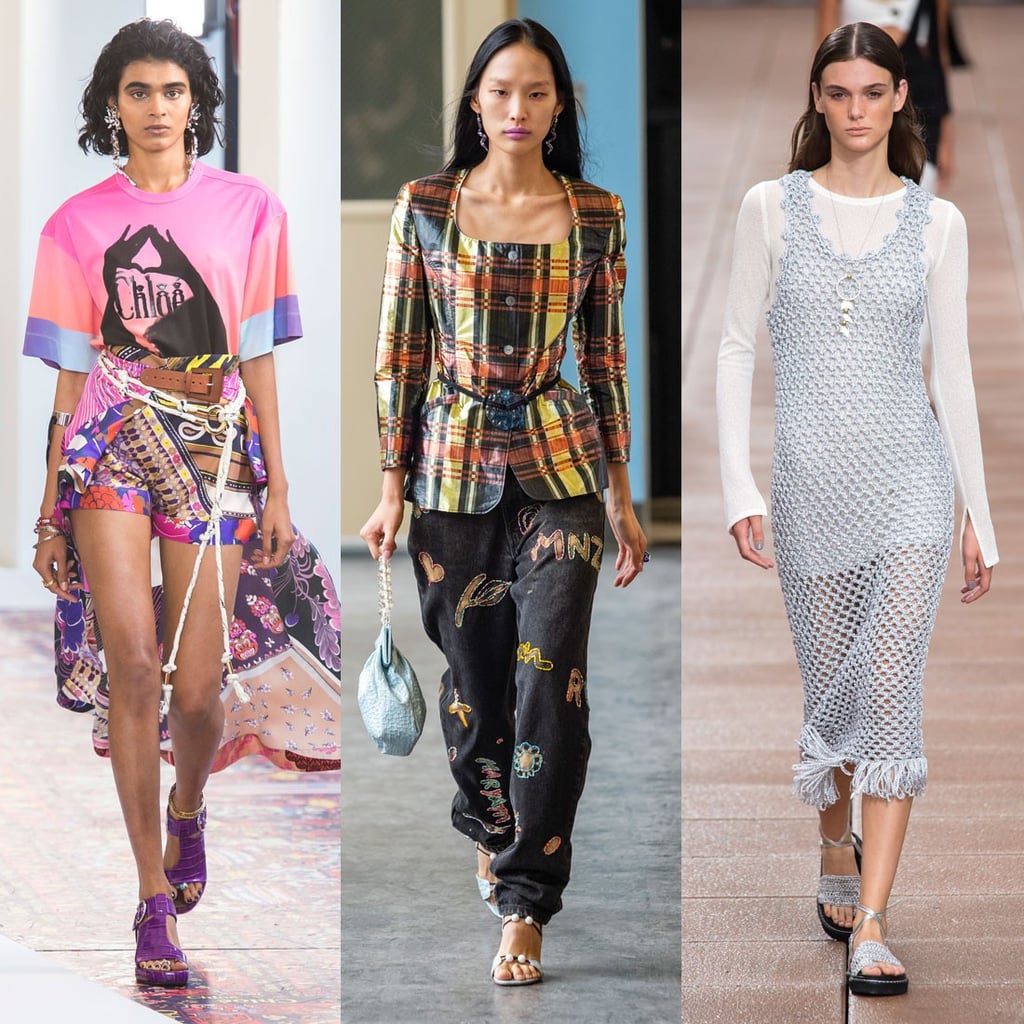 Cosmopolitan Get In on These Spring Fashion Trends Early & You'll Look Super Cool, Just Sayin' by Rachel Torgerson (January, 2019)
Elle 8 Trends That Are in for 2019… and 6 That Are Out by Nikki Ogunnaike (December, 2018)
Glamour Here Are the 10 Things We'll *All* Be Wearing in 2019 by Charlie Teather (January 2019)
Harper's Bazaar 11 Trends That Will Get You Shopping for Spring 2019 by Cassie Anderson (January, 2019)
PopSugar 2019's Most Wearable Trends by Hannah Weil McKinley (January, 2019)
Teen Vogue 9 2019 Fashion Trends You'll See Everywhere by Avery Matera (January, 2019)
Who, What, Wear Most Important Spring 2019 Fashion Trends by Bobby Schuessler (November, 2018)
Aloha, Summer! Collection
Summer is just around the corner which means warmer weather, vacations and beachtime fun. Shop Avon's newest fashion collection, Aloha, Summer! for all of your summer looks with "fashionable florals, breezy silhouettes and pineapple playfulness." (New Avon, LLC, 2019)
From classic casuals to party dresses, the women's Avon apparel collection has the ensemble you are looking for.
Amelia Eyelet Sleeve Knit Top (Regular Price: $24.99): Nothing keeps you cooler than our summer eyelet top.
Darla Ruched Dress (Regular Price: $29.99): Waves of ruching add a comfortable drape to our sexy little summer dress.
Eden Midi Dress (Regular Price: $34.99): Watercolors and flowing silhouettes make this dress easy as a breeze.
Eileen Denim Shorts (Regular Price: $29.99): The world is your oyster. Spend the day in our walking shorts made for all your summertime wanderings.
Ella Knit Jumpsuit (Regular Price: $39.99): Go island hopping in our brilliant blue knit jumpsuit with a splash of goldtone hardware.
Hi from Hawaii Tee (Regular Price: $16.99): Meet our Hawaiian tee—it's sweet as pineapple.
Lexy Swing Dress (Regular Price: $24.99): Luau bound? Do the hula in our sleeveless knit dress with an allover floral pattern.
Mara Cropped Jean (Regular Price: $34.99): Summer style is made simple with our shore-casual cropped jeans.
Marjorie Embroidered Top (Regular Price: $19.99): Turn the tide wearing our embroidered top with tie-front tassels. Available in Peach, Purple and Blue.
Sally Linen Dress (Regular Price: $39.99): Channel a laid-back vacay style with our light linen dress featuring crochet floral detail.
Tina Cold-Shoulder Top (Regular Price: $19.99): Our cold-shoulder top is made for sun-streaked days followed by breezy, brisk nights. Available in Orchid, Floral Print and Tie-Dye.
Victoria Cold-Shoulder Dress (Regular Price: $29.99): Party in paradise! Our cold-shoulder dress comes in a print that complements your floral lei.
Yvonne Tie-Dye Blouse (Regular Price: $29.99): Tropical trend alert: casual, cool cutouts paired with tie-dye and tassels!
Find your sole mate in a pair of shoes that completes your look.
Cushion Walk Casual Comfort Everyday Sandal (Regular Price: $29.99): Meet this summer's most comfortable sandals made for chill, laid-back days with no plans in sight.
Cushion Walk Double-Strap Faux-Suede Slide (Regular Price: $22.99): There's no time to waste when your next adventure awaits. Just slip on and go with the soft faux-suede slides. Available in Purple and Turquoise.
Cushion Walk Printed Summer Sneaker (Regular Price: $19.99): Our vibrant canvas sneakers add sunshine to your every step. Happy wandering! Available in Tie-Dye and Floral prints.
Glitter Strap Micro Wedge Flip-Flop (Regular Price: $14.99): Meet your wear-anywhere flip-flops that offer the perfect lightweight lift. Available in Gold and Silver.
Printed Wedge Flip-Flop (Regular Price: $14.99): Step into the good life with flip-flops made fabulous by an exotic floral print. Available in Black and Tan.
Determining Your Size with Avon Fashion
Unsure what size to get with Avon fashion? As of Campaign 19'2017, Avon has simplified their size chart to make it easier for you to shop.
For printable version of the above Fit Chart, click here.

You can shop Aloha, Summer! Collection until September 16, 2019 at www.youravon.com/jantunes.
For the latest FREE shipping & coupon codes that will help you save on your next order, check out Avon Online Coupon Codes. 
For over 100 years, customer satisfaction has been a #1 priority at Avon. Standing behind every product sold, Avon will gladly give you a full refund on all online purchases with your return within 90 days from the date of purchase.
For more information about Avon's Return Policy go to www.youravon.com/jantunes.

Love fashion? You can help others look & feel their best with Avon Fashion as an Avon Representative. Create a business you will love & have fun with that you can work into your daily life. Enjoy a FREE online store, FREE online training & support from Avon and your mentor and more.
Choose from 3 Avon starter kits starting at $25 when you join Avon at www.startavon.com Reference Code: jantunes.
Enjoy full size products, business tools & more that will get you started on the road to success. You can learn more about Avon starter kits & how to start a successful Avon business with your chosen kit at Avon Selling Tips: 2018 Starter Kit Tips for New Representatives.
To learn more about starting your own Avon business, check out Sell Avon: How to Start & Avon Selling Tips: 2018 Starter Kit Tips for New Representatives.
What You Can Do With Avon:
Shop Avon Online
Shop Avon Brochure
Sell Avon Use Reference Code: jantunes  
Earn Free Avon               
Donate with Avon