AvonMom's Favorite Family Fall Activities
Fall is my absolutely favorite time of the year. It's not only because the leaves change colors, the weather is perfect in my opinion or the best part, the kids are back to school. What makes Fall my favorite time of year is the fact that my family & I do a lot of fun activities together. Living in Massachusetts, we enjoy every aspect there is to do in the Fall. Here is a list of my favorite things to do in the Fall with my kids.
Hiking

One of the many benefits living in our area is we have a wide variety of hiking trails. My boys have always enjoyed nature, no matter what age they are. Each year, once the leaves start changing, we go one Sunday afternoon on a hiking trail. Once we reach the top or have completed the trail, we will do explore the area, take on the view & relax.
Fall Festival
Every September Western Mass residents look forward to our favorite festival that is full of amazing food, fun rides & games, adorable farm animals & unique vendors. It is what we all call- The Big E. also known as The Eastern States Exposition. Every September for 2 weeks, The Big E comes to the area & every year, we take our kids to walk around & have fun together. We play games, check out the animals & this year I will actually be able to enjoy checking out the amazing vendors home made decorations I can bring to my new home!
* Image courtesy of  esethebige.com
Making a Scarecrow
Making a scarecrow is a great activity to do with your kids, especially the younger ones. They love playing with the leaves & creating a scare crow that you can display in your front yard. Plus, it helps getting those leaves off your yard!
Click here to learn how to make a scarecrow from DIY Network. 
Fun in the Leaves
One thing my boys love doing is jumping in the leaves. Even when the older ones find ways to play in the leaves. I don't know what it is, but being able to jump around & throw leaves at one another is fun! Kids don't realize, but this is how I am able to motivate them to help me rake the leaves (haha).
Another fun activity you can do with fall leaves is to do an art project. You can make a collage, do an experiment to learn why leaves change colors or many more that you can find on Google or Pinterest.
* Image courtesy of Kallikids Fun Autumn Activities with Kids that Won't Break the Bank
Ideas on Fun Leaf Activities
Backyard Fire
I don't know what it is, but I love the smell of burning wood. After a long week, it is incredibly comforting to snuggle up to one of my babies, eat some smores & hang out with one another. We are able to catch up with one another & believe it or not, my kids aren't on their electronics the whole time!
Photo from @jant813 Instagram (personal photo)
Apple Picking

Are you someone who enjoys baking fresh apple pies or making fresh apple sauce? Nothing beats making home made apple desserts with fresh, local grown apples. Though we aren't able to do this every year, when we do we love it. We all work together & help one another out pick the best looking apples at the local apple orchard. The kids gets some fresh air, we have a scenic drive to get there & back & then we get to enjoy fresh locally grown apples to snack on.
Image courtesy of Nassau Happening Discover Apple Picking! 9 Pick Your Own Orchards on Long Island . 
Recipes with Apples
Pumpkin Picking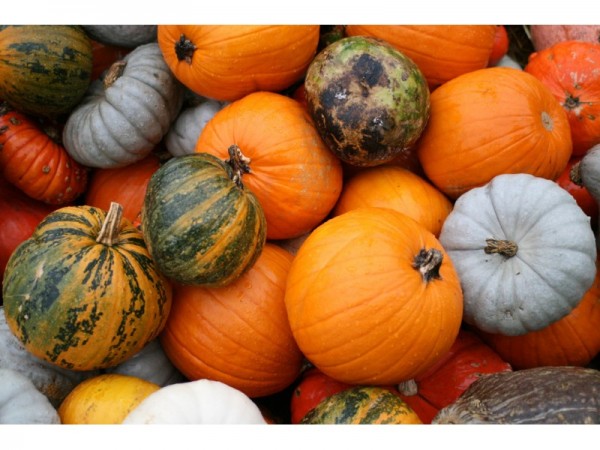 Every Columbus Day Weekend, my husband & I take our kids pumpkin picking at the local farm. We go down to the pumpkin patch on a hay ride & pick out our pumpkins we are going to carve & decorate our home with. My kids love that get to pick something that is their own. Being one of 5 boys, having something that is only yours is rare, so when we can give this opportunity to our kids we do our best to make it happen because they truly do appreciate it.
Image courtesy of Sayville Patch. 
Carving Pumpkins
What boy doesn't love to get messy? Well my boys are no different & though they are screaming & squirming the whole time, they are loving emptying their pumpkins and then choosing a design they can carve on their pumpkin. This is a great family activity to do & is something my husband & I have done every year with our kids since we got married. So this is something my kids look forward to each year.
Image Personal Photo, 3 kids carved pumpkins 2009
Halloween

Of course I am going to mention Halloween! Each year my kids choose what they want to be in September & then I take the next two months to figure out how to make it happen. Of course, my kids (or at least one of them) chooses a costume that is not available to purchase. What does that mean? I have to piece together the costume & use my creativity. Each year I make it happen & every year I have 4, now will be 5, happy boys on Halloween ready to get all kinds of candy. I am not a mom who normally allows my kids to snack on candy so they love getting a pillow case full to snack on for the next couple months.
As of last year, Halloween now has even more of special meaning to us- my youngest was born on Halloween. So each year, we will be celebrating the youngest of our family. My kids reaction to this is "YEAH! Now we get cake before we go trick or treating!". hahaha….Kids.
Image courtesy of Defouw Automative 
For Halloween Costume Ideas…
Sunday Dinners
Between my husband working 2nd shift, the kids after school activities & life in general, most days we don't get to sit down & eat together as a family. So once school starts, we start up our weekly Sunday dinners again. I make a big meal, most of the time it will take me all day or in my crock pot all day. Then at dinner time, we all come together & eat dinner, catch up & talk about what's coming up in the week. My boys love to eat so they love my Sunday meals because this is one meal they do walk away completely stuffed (which can be hard at times with 5 growing boys). I love having my family together & making those traditions & memories for them.
Image courtesy of Martha Stewart Quick Sunday Supper Recipes Rosemary Fried Chicken
Sunday Dinner Recipes
Thanksgiving
Thanksgiving for us is like a Sunday dinner with more food & more family! We all come together, thankful for having a meal with our loved ones & for everything else we have been blessed with throughout the year. Then once we are full & took our Thanksgiving nap, my husband & I will either do a movie night or game night with our kids. It's a fun, relaxing day that we enjoy together as a family.
Growing up, my fondest memories are centered around family fun activities & traditions we did together. Now as adults, when we walk down memory lane we laugh & tease one another. That is what I hope to pass down to my kids with doing fun filled activities like I listed above.
Image courtesy of Real Simple 5 Tricks to a Trouble Free Thanksgiving
Thanksgiving Tips
For tips & tricks on hosting a Thanksgiving dinner, check out AvonMom's Thanksgiving on a Budget Tips.
For More Fall Activity Ideas…
Country Living The 35 Most Quintessential Fall Activities
Today's Parent 50 Must Do Family Fall Activities
Woman's Day 25 Fun Traditions Every Family Should Do This Fall
What do you love to do with your family in the Fall?
How to Become an Avon Mom
Create an online business you can work anytime, anywhere with the help of your FREE online tools, resources, and training you receive as an Avon representative.
Get started today for $30 + receive a FREE gift when you sign up at www.startavon.com with Reference Code: jantunes.
How Can I Help You?
What You Can Do With Avon:
Shop Avon Online
Shop Avon Brochure
Sell Avon Use Reference Code: jantunes  
Earn Free Avon               
Donate with Avon