Avon Mom Tips: Camping with Kids
With it being the start of Memorial Day Weekend & opening of camping season, I decide to pass on what I've learned when it comes to camping with your kids. Camping is an amazing way to create memories, bond and enjoy the beautiful summer weather with your family. I know for my family, it is something we look forward to doing every year. We have created amazing memories that will last a life time! Though as amazing of a time we have had on each of our camping trips, there are a few things I had learned the hard way.
AvonMom Top 10 Camping Tips
1 . Make sure to book your campsite before Memorial Day Weekend. This will ensure you get pick of the litter & have choice of the best spot in any campground you'd like. With it being Memorial Day weekend now, I recommend reserving your spot right away because they do go quickly!
2. When choosing a campground, make sure to pick one that will have plenty of stuff for your family to do. There are campgrounds that don't have much to do. I highly recommend choosing a family friendly campground because they normally will have activities planned that your kids can enjoy during your stay. If you choose a campground with minimal things to do then make sure to plan plenty of things to do like games, hiking, scavenger hunt, etc.
3. If you are bringing your dog(s), make sure to check campground rules & regulations on pets. Some campgrounds have stricter rules & may require a fee.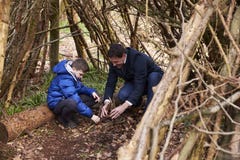 4. Make sure you know how to build & start a campfire prior to going. You can practice in your backyard. Fighting to get a fire going on the spot is stressful. See below on how to make a campfire. (Make sure to check rules & regulations on campground's campfires. Some campgrounds require you buy the wood from their gift shop while others are okay with you bringing your own). 
5. Make sure to pack clothes for hot & cold weather. Nights get cooler & if your campground is at a higher elevation or north from your location, the nights can get really cold (We learned that the hard way).
6. Create a meal plan for each meal for each day & make sure they are simple. To make life easier, make sure to do as much prepping as possible at home. Break up fruit & vegetable snacks into individual containers so it will be easy to grab & keep them fresh as long as possible. (If you are arriving at the end of the day on the first day, you can make a casserole the day before you leave that way when you get there you don't have to worry about cooking a meal.)
7. Don't bring electronics! This will minimize kids being upset when there tablet or portable game system runs out of battery & you have no way of charging it or worse case scenario lose it. Plus, this will ensure everyone will participate & enjoy the adventure with minimal distractions. Your kids will not even miss them. My boys were so upset when they found out they weren't going to be able to bring electronics but once we got there, they didn't even ask for them!
8. Make sure you arrive to the campground with enough time to set up your tent & get the fire going. This will ensure that you have plenty of light to start off the trip on a great start. No one is going to want to sit there a put a tent up with barely any light!
9. If you have little ones, try & stick to their routine as much as possible. This will help you minimize tantrums due to hunger or tiredness. We all know a toddlers tantrum is not fun, especially when you are in the middle of nowhere!
10. Have your kids know right away what is expected of them. I recommend for parents to do this with any trip. I feel it is important to establish rules so the kids know what is expected of them, where they can & can not go, what to do if they need to use the bathroom etc. This will help minimize any trouble & the "I didn't knows".
What to Pack:
Tent
Mallet to hammer in the pegs for your tents
Sleeping bag for each person
Blow up mattress(es) (optional)
Repair kit for camping equipment
Pillows
Extra blankets
Lanterns & flashlights with extra batteries (I recommend there is enough for each person to have their own at least).
Portable stove, grill or whatever supplies you will need to cook including the appropriate propane or charcoal.
Firewood (if allowed)
Campfire starter (optional)
Matches/Lighter
Pots if needed for meals
Portable coffee maker
Tablecloth 
Chairs
S'mores (chocolate, graham crackers, marshmallows & sticks if you don't want your kids to use twigs from there)
Trash bags (you will need enough for trash & laundry)
Cooler(s)
Ice
Water bottles
Plastic/Paper plates & utensils
Plenty of easy to grab snacks.
Cooking utensils you will need to cook your meals
Small tub or bucket to clean cooking dishes
Clothes for daytime (hot) & nighttime (cold)
Lots of socks! (Good to layer at night & if your kids are like my boys, they will get them soaked in no time checking out frogs & fish in the lake)
Warm pajamas & flannels
Swimsuits
Swimming gear (towels, goggles, etc)
Sneakers & hiking shoes
Water shoes
Gloves & hats
Sunscreen
Bug repellent
Deodorant
Soap (if there isn't public showers, make sure to get biodegradable soap)
Portable Shampoo/Conditioner (if there are public showers)
First Aid Kit
Toothpaste, mouthwash & toothbrushes
Any prescriptions that may be needed
Toilet paper & Paper Towels/Napkins
Pet supplies & food if you are bringing your dog.
Nets
Fishing Gear
Kids favorite toys/ stuff animals (especially any item your kid(s) need to sleep with)
Knowing how to build a campfire is one of the most important things you need to know how to do prior to arriving. Campfires are not only a traditional fun activity to enjoy with your kids but it will also give you warmth at night & keep animals away.
As I've said, camping can be a wonderful experience that you & your family will fall in love with. Keep in mind, you know your kids best when preparing for your trip & make sure to have the essentials. Then, once you get there, let your kids be kids! You all will most likely come back desperately needing a hot shower, but it is all worth it. You will be so amazed in how much fun there is to have in nature & being able to enjoy that quality time with them. Good luck & have fun!
What tips or information did you wish you knew before going camping with your kids?
How to Become an Avon Mom
Create an online business you can work anytime, anywhere with the help of your FREE online tools, resources, and training you receive as an Avon representative.
Get started today for $30 + receive a FREE gift when you sign up at www.startavon.com with Reference Code: jantunes.
How Can I Help You?
What You Can Do With Avon:
Shop Avon Online
Shop Avon Brochure
Sell Avon Use Reference Code: jantunes  
Earn Free Avon               
Donate with Avon